4 items tagged "Bosnia:Herzegovina"
Results 1 - 4 of 4
Category: Videos
Created on Wednesday, 24 June 2020 18:49

A message to the Energy Community and EU Commission by NGO Eko akcija :
Add Water Framework, Birds and Habitats Directives to Energy Community Treaty to reduce the impact of hydropower projects
Exclude small hydropower plants from the category of renewable energy sources
Exclude small hydropower plants from the subsidy scheme and State aid
Revise renewable energy targets and develop funding programmes to help green energy transition suited to the needs and capabilities of BiH society and its environment
And a short but very informative video accompanying the above message.
Category: Reports & Publications
Created on Wednesday, 08 August 2018 19:49
In the dominant discourse and public opinion, hydropower must be developed for the energy transition and only a few very large dams and hydropower plants in Amsud, Africa and China have very negative environmental impacts. The European Water Movement questions these assertions through examples from France, Spain and the Balkan region.
The Balkans are the region in Europe where there are currently the most projects of dams and hydropower plants.
Category: Videos
Created on Thursday, 31 December 2015 12:40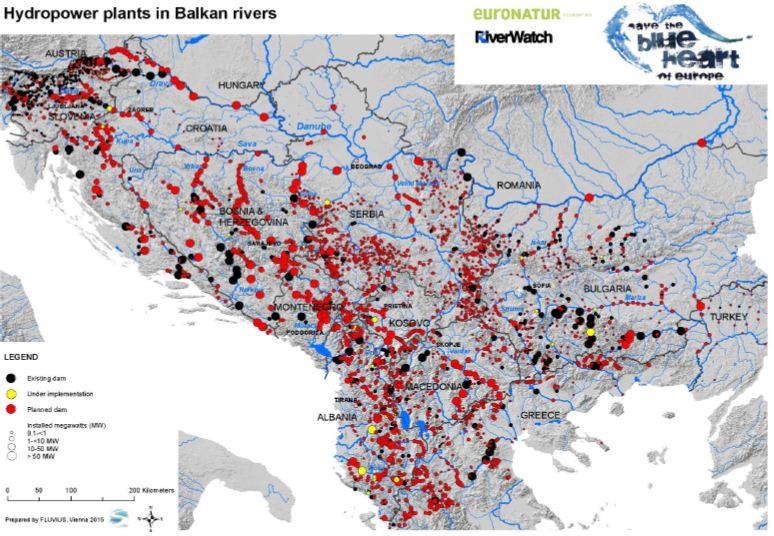 Miodrag Dakic's video sent for the roundtable "Dams, Energy and climate change" which was organized by the European Water Movement during the Climate forum in Montreuil.
Category: Country & City Focus
Created on Friday, 09 October 2015 18:41
After a ten-year wait, citizens in Bosnia and Herzegovina are celebrating after plans for two large hydro power plants in the north of the country were quietly cancelled – allowing the Vrbas River and its nature to flow untrammeled.
There has been mass public opposition and protests against the project since the government of the Republika Srpska (RS) administrative entity signed concession agreements with the company HES Vrbas for the plants in 2004.
Friends of the Earth Bosnia & Herzegovina /Center for Environment first heard about plans for two large hydro dams a short distance upstream of the regional capital city of Banja Luka in October 2004, after they appeared on the agenda of the RS government.
Yet the plans were out of date, dating from the 1990s, with no impact assessment on the local environment, resources, or tourism industry – despite being situated in a planned protected area.
A Coalition for Vrbas River Protection quickly sprang up comprising around 30 local NGOs, and they rallied more than 5,500 people to sign a petition against the hydro plans, but their words fell on deaf ears.
Read more on the website of Friends of Earth Europe
EasyTagCloud v2.4 Free